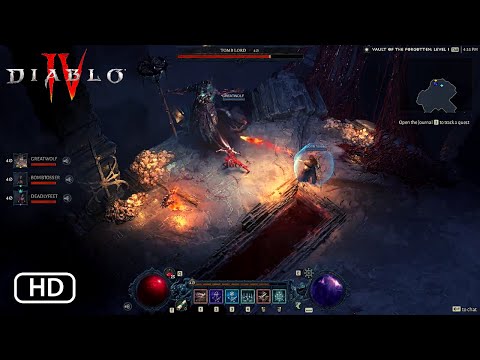 DIABLO 4 GAMEPLAY OFFICIAL (HD) – PS5, PS4, XBOX, PC
DIABLO 4 GAMEPLAY OFFICIAL (HD) – PS5, PS4, XBOX, PC
► About the game:
Diablo IV is an upcoming dungeon crawler action role-playing game developed by Blizzard Entertainment, the fourth title in the Diablo series. The game was announced at BlizzCon 2019 on November 1, 2019 for PC, PlayStation 4, and Xbox One. A release date has not been announced by Blizzard Entertainment; however, some estimates predict the release some time during 2021. Series features such as re-playable, procedurally generated dungeons, and loot-focused character-building are returning, while new features such as an open world, and player versus player (PVP) interactions are incorporated. Four playable classes have been announced – Barbarian, Sorceress, Druid, and Rogue – all of which have appeared in the series. Players guide their character through quests and combat in the world of Sanctuary as the once banished Lilith returns to wreak havoc.
► Gameplay :
The core formula for the series' gameplay revolves around gradually obtaining stronger equipment by defeating increasingly difficult enemies.[8] Enemies are fought using different character class skills which can be customised by equipment and talent trees. This concept is used to progress through the story and quests. Enemies are split into monster families which are defined by a theme, combat style, and their location. Each family contains different archetypes that hold different roles allowing for synergies of speciality abilities between family members. To differentiate between them, they have unique silhouettes, stances and weapons.
Creative director Sebastian Stepien explained the goal to create a more "grounded" story than Diablo III. In order to achieve this, the plot revolves around the simple folk of Sanctuary rather than "politics, kings, or another high-fantasy theme".
The playable character's effectiveness in combat is determined by their attributes and their boosts from equipped items.[13] Offensive attributes include attack and critical chance which improve damage output. Defensive stats include elemental resistance and defense which improve how much damage can be taken. Diablo IV introduces three attributes: Angelic, Demonic, and Ancestral Power. Angelic and Demonic Power alter the duration of beneficial and negative effects respectively. Ancestral Power increases the chance of effects being applied to another entity. Weapons and gear have increasing rarity which are a general indicator of their power. The rarest items have unique effects that alter more than just the character's parameters. Gear can further be customised with runes and runewords. These items allow players to upgrade selected items with additional effects. They are split into two groups – condition runes, and effect runes. Effect runes describe the additional effects. Conditions runes describe the situations under which the effect rune will be active. These two items combine to form a runeword that then can be applied to an item. In an interview with lead game designer Joe Shely and senior producer Tiffany Wat it was revealed that trading and crafting will be available in the game but will be limited to resources outside of the most powerful items. The auction house, a feature removed in Diablo III as it bypassed the game's concept of gear-progression, was removed. Limited time seasons return to the game, which alter legendary powers to shift the meta-game.
Microtransactions are included in the form of cosmetic items. The game is unable to be played offline and will require an internet connection.
► Check out this playlist:
Red Dead Online (Standalone Version) – https://www.youtube.com/playlist?list=PLRIkDzxrFgVE6E4vZnZRTURCjS7jYBkcQ
Ratchet and Clank Rift Apart – PS5 : https://www.youtube.com/playlist?list=PLRIkDzxrFgVFAoQAYVB3tMH_qJYe0aHVm
BATMAN GOTHAM KNIGHTS – PS5 : https://www.youtube.com/playlist?list=PLRIkDzxrFgVG6itBABBGOBk8YXHCHTFL5
►Follow me:
Instagram: https://www.instagram.com/spdgamingof…
Facebook: https://www.facebook.com/spdgamingoff…
Twitter: https://twitter.com/_SPDGaming
Thanks for watching!!
———————————–
#diablo4 #diablo4rogue #diablo4gameplay #diablo4trailer #diabloiv #spdgaming #ps5 #ps5gameplay #playstation5 #xboxseriesx #xboxseriesxgameplay
RELATED SEARCHES(ignore):
1, diablo 4 gameplay 2020
2, diablo 4 gameplay 2021
3, diablo 4 rogue trailer
4, diablo 4 trailer
5, diablo 4 official trailer
6, diablo 4 gameplay
7, diablo trailer
8, diablo 4 rogue
9, diablo rouge
10, diablo 4 2021
11, diablo 4
12, blizzcon diablo 4
13, blizzcon diablo
14, diablo 4 blizzcon 2021
15, diablo 4 rogue gameplay
16, diablo gameplay
17, diablo 4 release date
18, diablo iv
19, diablo 4 classes
(Visited 3 times, 1 visits today)
https://deintube.com/wp-content/uploads/2022/06/hqdefault-10.jpg
360
480
ukadmin
https://deintube.com/wp-content/uploads/2023/07/deintube-logo-375x60-1.png
ukadmin
2022-06-01 09:25:37
2022-06-01 09:25:37
DIABLO 4 GAMEPLAY OFFICIAL (HD) – PS5, PS4, XBOX, PC