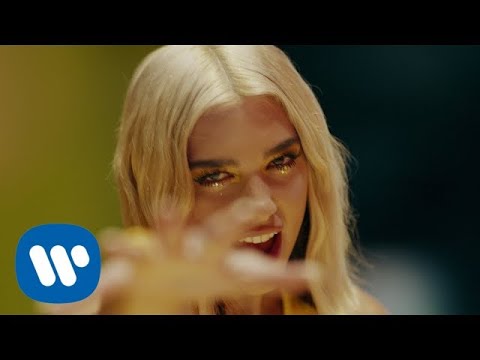 Dua Lipa – Physical (Official Video)
The official music video for Dua Lipa – Physical
Taken from her second studio album 'Future Nostalgia' released in 2020, which featured the hit singles 'Don't Start Now', 'Physical', 'Break My Heart', 'Hallucinate' & 'Levitating'
Get the album Future Nostalgia : https://dualipa.co/futurenostalgia
In collaboration with Dua Lipa, Pepe Jeans London created a selection of coloured jeans for the music video "Physical". These jeans will be produced in four colours and incorporated into the SS20 #DUAFORPEPE Collection.
#DUAFORPEPE Collection: https://www.pepejeans.com/en_int/duaforpepe/collection/dua-lipa-x-pepe-jeans/view-all
#DUAFORPEPE get ready: https://www.pepejeans.com/en_int/subscription
Subscribe to the Dua Lipa channel for all the best and latest official music videos, behind the scenes and live performances.
https://www.youtube.com/channel/UC-J-KZfRV8c13fOCkhXdLiQ?sub_confirmation=1
See more official videos from Dua Lipa here:
https://www.youtube.com/playlist?list=PLNrotoZZ8BaoXT_LJuwEyESQlctWNDCwD
Listen to more from the album 'Future Nostalgia' :
https://www.youtube.com/playlist?list=PLNrotoZZ8BaouNABcO_A9Xkn_Nkz0PT11
Follow Dua Lipa:
Instagram: https://dualipa.co/instagram
Facebook: http://dualipa.co/facebook
TikTok: https://www.tiktok.com/@dualipaofficial
Twitter: http://dualipa.co/twitter
YouTube: https://dualipa.co/youtube
Video Credits:
Directed by CANADA
Produced by CANADA
Producer: Laura Serra Estorch / Karen Saurí
MD / Executive Producer: Oscar Romagosa
Head of Production: Alba Barneda / Julia Carrasco
Director of Photography: Niklas Johansson
Production Designer: Anna Colomer Nogué
Production Manager: Dani Molina
1st A D: Luis Casacuberta Abril
Stylist – Dua Lipa: Lorenzo Posocco
Stylist: Adrian Bernal / Laura Vandall
Choreographer: Charm La'Donna
Make-Up Artist – Dua Lipa: Lisa Eldridge
Hair Artist – Dua Lipa: Anna Cofone
Make-Up & Hair Artist: Rubén Mármol
Casting: LANE Casting
Editor: Carlos Font Clos
Animation: MATHEMATIC
Grading: Marc Morató @Metropolitana
Graphic Design: Folch
Sound Design: Angel Sound Studio
Post Production: EIGHTY4
Casting Coordinator: Noemí Montero
Wardrobe Coordinator: Itsasne Santos
Glam Team Coordinator: Maria Rubio
Production Coordinator: Marta Vega
Post Production Coordinator: Marga Sardà / Marina M. Campomanes
Production Assistant: Aina Salarich
Focus Puller: Dani Gallardo
Gaffer: Damian Halpern
Key Grip: David Arrés / Xavi Gordi
Sound Recorder on set: Jordi Salinas
Production Designer Assistant: Marina Blasi
Graphic & Concept Artist: Bea Márquez Picazo
Stylist Assistant – Dua Lipa: Raeanne Hayden
1st Stylist Assistant: Andrea Ramil
Make Up Assistant – Dua Lipa: Jessie Richardson
Hair Assistant – Dua Lipa: Anja Bont
2nd Hair & Make Up Artist: Alizia Moreno
Dancer – Dua Partner: Kane Horn
Charm La'Donna – Choregrapher Assistant: Alex Clark
Local Choreographer Assistant: Natalia Palomares
About Dua Lipa:
Born and raised in London to Kosovar-Albanian parents Dua Lipa signed to Warner Records in 2015, releasing her self titled debut in 2017 which featured the hit singles, 'Be The One', 'IDGAF', 'Hotter Than Hell' & her first UK #1 hit 'New Rules'.
Critical success soon followed as Dua Lipa picked up Brit Awards for 'Best Female Solo Artist' and 'Best British Breakthrough Act' as well as Grammy Awards for 'Best New Artist' and 'Best Dance Recording' for the track 'Electricity' in collaboration with Silk City.
Her second internationally acclaimed studio album 'Future Nostalgia' was released in 2020 and included the hit singles 'Don't Start Now, 'Break My Heart', 'Hallucinate' and 'Levitating', with the remix album 'Club Future Nostalgia' following shortly after featuring guest appearances from 'Blackpink', 'Missy Elliott', 'Madonna' and 'Gwen Stefani'.
#DuaLipa #Physical #FutureNostalgia
(Visited 6 times, 1 visits today)
https://deintube.com/wp-content/uploads/2022/06/hqdefault-65.jpg
360
480
ukadmin
https://deintube.com/wp-content/uploads/2023/07/deintube-logo-375x60-1.png
ukadmin
2022-06-04 00:05:41
2022-06-04 00:05:41
Dua Lipa – Physical (Official Video)