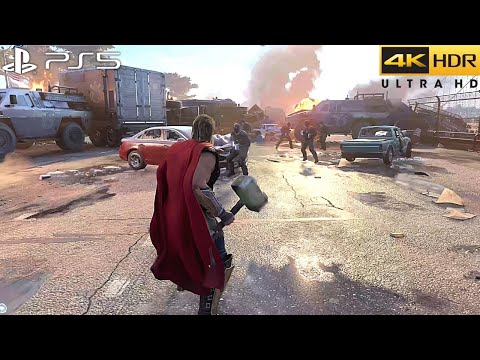 Marvel's Avengers (PS5) 4K 60FPS HDR Gameplay – (PS5 Version)
Marvel's Avengers (PS5) 4K 60FPS HDR Gameplay – (PS5 Version)
Special thanks to Square Enix for providing a review code .
Marvel's Avengers is a 2020 action role-playing brawler video game developed by Crystal Dynamics and published by Square Enix's European subsidiary. Based on the Marvel Comics superhero team the Avengers, the game is mainly inspired by the Marvel Cinematic Universe's iteration of the group, but also incorporates elements from the team's long-running comic book mythology. The plot follows Inhuman teenager Kamala Khan, who gains superpowers during A-Day, a celebratory day for the Avengers, which ends in tragedy following a terrorist attack. Blamed for the disaster, the Avengers disband, and allow science corporation A.I.M. to take their place. Five years later, when A.I.M. threatens to eliminate all superpowered individuals, Kamala embarks on a quest to reassemble Earth's Mightiest Heroes to combat this new enemy.
The game is played from a third-person perspective and has both single-player and multiplayer modes; it features an online co-op mode, allowing players to assemble a team of heroes of their own. The initial roster consisted of Steve Rogers / Captain America, Tony Stark / Iron Man, Bruce Banner / Hulk, Thor, Natasha Romanoff / Black Widow, and Kamala Khan / Ms. Marvel, with more characters being added in free post-launch updates, which also added story expansions and new regions to be explored. Each hero possess a variety of costume customisation features, as well as the capacity to upgrade their powers and abilities using a skill tree.
you can get the PS5™ digital version at no extra cost and you do not need to purchase this product. Owners of a PS4™ disc copy must insert it into the PS5™ every time they want to download or play the PS5™ digital version. PS4™ game disc owners who buy the PS5™ Digital Edition disc-free console will not be able to get the PS5™ version at no extra cost.
Marvel's Avengers (PS5) 4K 60FPS HDR Gameplay – (PS5 Version)
Marvel's Avengers PS5 Version Gameplay
(Visited 1 times, 1 visits today)
No tags for this post.