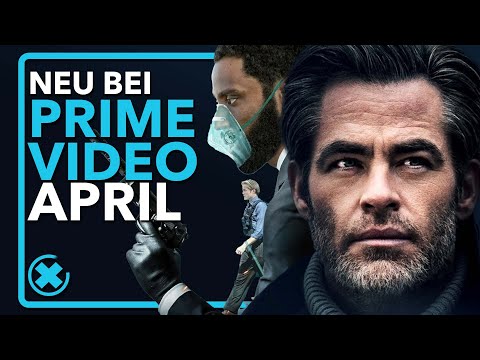 Neu bei Amazon Prime Video im April | FilmFlash
Neu bei Amazon Prime Video im April.
Phantastische Tierwesen, Bloodthirsty, The Hitman's Wife's Bodyguard, Supernova, All The Old Knives und mehr!
✖ Check alle Serien- & Filmstarts:
https://screenflash.io/kalender/
Prime Video testen*:
https://amzn.to/2TPpLsq
✖ Filme: Neu Prime im APRIL
01. April
Harry Potter 1 bis 8
Phantastische Tierwesen 1 und 2
Spider-Man: Into The Spider-Verse
La Gorda Fabiola: Modelo 63
02. April
Hard Target 2
03. April
The Assassination Of Jesse James By The Coward Robert Ford
Bloodthirsty
05. April
Dark Web: Cicada 3301
Little Nicky: Satan Junior
The Milagro Beanfield War
06. April
Irresistible – Unwiderstehlich
07. April
Laura Pausini – Pleased to Meet You
Las Huellas Deel Bulli
08. April
All The Old Knives
09. April
Jack Reacher: Never Go Back
13. April
The Roads Not Taken
14. April
Supernova
15. April
Ben-Hur
Furious 7 – Extended
16. April
Birdman oder (Die unverhoffte Macht der Ahnungslosigkeit)
17. April
Tenet
19. April
Beflügelt – Ein Vogel namens Penguin Bloom
20. April
Homefront
21. April
Snakes On A Plane
23. April
Die Königin der Verdammten
26. April
Tschernobyl 1986
27. April
Hunter Killer
29. April
The Hitman's Wife's Bodyguard
I Love America
30. April
Space Jam
▬▬▬▬▬▬▬▬▬▬▬▬▬▬▬▬▬▬▬▬▬▬▬▬▬▬▬
💸 FilmFlash unterstützen
Bei Amazon einkaufen*: https://amzn.to/2CRSbpJ
✖ Streamindienst buchen*:
✚ Disney+: http://bit.ly/DisneyPlusRen
✚ Prime Video: https://amzn.to/2TPpLsq
✚ Sky Ticket: https://bit.ly/sf_sky_2022
✚ AppleTV +: https://bit.ly/sf_appletvplus
HERZLICHEN DANK!
▬▬▬▬▬▬▬▬▬▬▬▬▬▬▬▬▬▬▬▬▬▬▬▬▬▬▬
*Wer Produkte über meine Links einkauft, unterstützt mich. Die ausgewählten Firmen zahlen mir dafür eine kleine Provision aus. Der Preis bleibt dabei exakt der Gleiche für Euch.
Der Kanal wird durch Ren Kühn betrieben und durch ScreenFlash.io verwaltet.
Impressum:
www.screenflash.io/impressum
(Visited 1 times, 1 visits today)