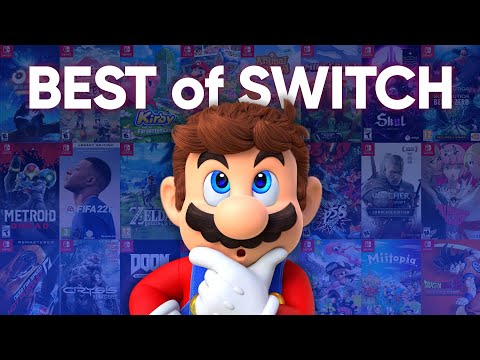 The 25 Best Nintendo Switch Games [2022 Update]
Big thanks to Guzzler for sponsoring this video!
https://guzzler.io/
Join the beta for FREE: beta.guzzler.io
Here's our latest, updated ranking of the top #Switch games ever released. The entries are arranged by #playscore, a rating that combines critic and gamer reviews. You can find the complete list at https://whatoplay.com/switch/ranking/
Join this channel to get access to perks:
httpv://www.youtube.com/watch?v=channel/UCcGL_0yoZTskvlgAixaEjEg/join
Discover all the BEST, NEW & UPCOMING PC, PlayStation 5, Xbox Series X, Nintendo Switch, Android and iOS video games at https://whatoplay.com.
0:00 Introduction
0:14 Dragon Quest Builders
0:35 Final Fantasy XII: The Zodiac Age
1:00 Astral Chain
1:25 Donkey Kong Country: Tropical Freeze
1:49 Sonic Mania Plus
2:05 NEO: The World Ends With You
2:35 Bayonetta 2 + Bayonetta
3:01 Xenoblade Chronicles: Definitive Edition
3:23 Diablo III: Eternal Collection
3:48 Luigi's Mansion 3
5:08 The Legend of Zelda: Link's Awakening
5:30 The Great Ace Attorney Chronicles
5:57 Fire Emblem: Three Houses
6:24 Super Mario Maker 2
6:43 MONSTER HUNTER RISE
7:07 Dragon Quest XI S: Echoes of an Elusive Age – Definitive Edition
7:42 Metroid Dread
8:08 Super Smash Bros. Ultimate
8:31 Mario Kart 8 Deluxe
8:59 Super Mario 3D World + Bowser's Fury
9:20 Ori and the Will of the Wisps
9:49 Animal Crossing: New Horizons
10:23 Hades
10:47 Super Mario Odyssey
11:12 The Legend of Zelda: Breath of the Wild
(Visited 1 times, 1 visits today)
No tags for this post.